At Sync Living we believe that a Christmas gift guide can be useful. How many of us have spent the days before Christmas running around trying to find a last-minute gift? Believe us, we have been there, and we know the feeling.
Every year is the same story. You love your elderly parents and grandparents and you want to show them your affection with a nice Christmas present. The problem is that you have already bought that fancy jumper, those warm gloves, or those comfortable winter pyjamas and you have run out of ideas.
Luckily, Sync Living is here to save you from unnecessary stress and sleepless nights. Check out our Christmas gift guide with smart ideas to improve accessibility and usability for your senior family members.
We thought it would be useful to break down our Christmas gift guide into three sections so that it is easier to choose the gift that suits the recipient the most according to their needs and lifestyle. The items shown in the blog post can be purchased at our showroom individually or as part of a hamper.
Christmas gift guide: Christmas presents for elderly people who enjoy getting out and about
Years might pass, and movement may become harder, but if your loved ones are fond of travelling, they won't stop going out and about. What can you do to make their trips and outings easier? Here is our Christmas gift guide for older but still rocking socializers. These products offer mobility support and are extremely practical as they can be easily popped into a bag or a suitcase.
Folding extendable plastic handled patterned walking stick
This folding walking stick is a must on our Christmas guide gift! If you have experience with walking sticks, you know that despite being useful, they can be quite bulky. This product is the ideal solution to this problem as it can fold for easy storage and transportation. It also features a non-slip rubber foot, five different height adjustment settings, and a practical hanging strap. In addition, it's available in several patterns and colours to match the most varied tastes.
Suction grab rail
This product might look banal, but it can be a real game changer when you are staying over at your friends' house or when you are on holiday. Whether you need to get in or out of a shower or a bathtub, a suction grab rail will be of great help for your mobility and safety. It's another essential item on our Christmas gift guide as it can be used both on tiled walls or on other non-porous surfaces. Moreover, it is extremely practical and can be removed and relocated in just seconds.
Revolving Swivel seat
A revolving swivel seat is a product you might not know, but it can be extremely helpful for transitions. It can be used at home to move from a chair to a bed and especially during travel to get in and out of the car or other means of transport. This product is lightweight, portable, and it ensures user comfort thanks to its padded fleece cover top. It is also useful as it helps carers avoid back strain when assisting their patients or loved ones.
Christmas gift guide: Christmas gifts to make meals a more enjoyable experience
When people suffer from reduced upper-body mobility, meals can become very difficult and a constant source of frustration. If your beloved ones have limited hand/wrist movement, you should consider purchasing a set of eating items. These products are essential to give dignity back to people in need, as they allow them to feed themselves independently. In this section, our Christmas gift guide features four eating aids. You can decide to purchase them individually, but we recommend buying our eating aid hamper to make sure your loved ones can enjoy a fully-accessible meal.
Foam Handled Cutlery
This set is particularly helpful for people with arthritis, weak wrists, and limited coordination. The stainless-steel knife is ideal for cutting meat, fish and, in general, harder food. In addition, this set is lightweight and built with a foam handle for an easy grip. A must-have if your loved ones struggle holding their cutlery.
Two-handled mug with a spout
This mug is provided with two handles to ensure better control and easy grasp. The item is also provided with a spout placed on top of a lid for anti-spill and easy drinking.
Plate guard
This add-on plate guard has a simple design and it can be easily applied to any plate. It is ideal for people who need extra assistance while eating. The food can be easily scooped against the guard with no risk of food slipping off the plate. Ideal for meals at home or at the restaurant. Another essential on our Christmas gift guide!
Henro-plate
A henro-plate is a specially made plate. It is designed with a low front and a slope that allows the food to slide down to a high back. Making eating easier again and possible even with just one hand.
Christmas gift guide: gifts for people who want to get dressed independently
Another important category of products that can really make the difference in every life are dressing aids. Reduced mobility can make it hard to perform daily tasks such as button up your shirt or pulling up your socks. If somebody cannot manage to wear a piece of clothing, they might stop putting it on or they might start depending on other people's help to get ready in the morning. Dressing aids prevent users from having limitations on what to wear and how to wear it, ensuring their independence and freedom. This section of our Christmas gift guide comprises four must-have dressing aids that will make life easier for your beloved ones in need.
Plastic Handle Button Hook Zipper
This product is ideal for users who have difficulties in fastening buttons and zipper. It is simple and easy to use. In addition, it is lightweight and has compact dimensions. This makes it suitable to be used not only at home but also when travelling.
Sock Helper
If your beloved ones find it hard to bend down and pull up their socks or stockings, a sock helper can be a useful gift idea. This item reduces the need to bend down and the stress related to the impossibility of being able to wear this basic piece of clothing independently.  All they have to do is apply the garment over the aid, place the foot inside it, and pull up the sock or stocking using two straps. As simple as that.
Dressing Stick
A dressing stick is an ideal solution for people with a limited reach, limited mobility or for people who can use only one arm to perform this action. This item is easy to use, lightweight and allows the user to be independent when getting dressed in the morning or when getting undressed before going to bed. Another staple of our Christmas gift guide that you should be purchasing!
Long shoe horn
If you don't already own one, a long shoe horn is another essential product that everyone should have at home. There isn't much to say about it. It is simply practical and makes wearing shoes easier and hassle-free.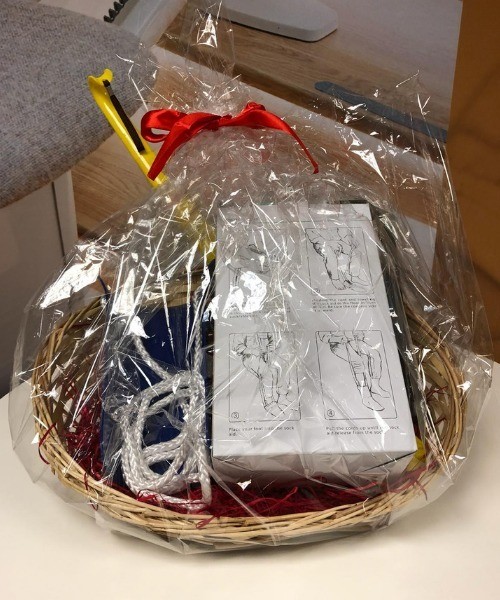 Christmas gift guide: rounding it up
If you want to purchase meaningful gifts this year, Sync Living is the right place for your Christmas shopping in Belfast and surroundings.
We are open from 9 am to 5 pm from Monday to Thursday and from 9 am to 4.30 pm on Friday. Pop over to have a talk to one of our specialists to find the perfect gift for your dear ones.
Note:
All the items shown in this blog post can be sold individually.
If you buy a hamper (travel hamper, eating aid hamper, dressing aid hamper), you will get 10% off the total price.