Bathroom and Home adaptations can be a daunting task but there's no need to be afraid… Whether it's asking a question or asking for help. Here at SYNC living no question goes unanswered. In order for us to help we would need to know the following;
1) Do you or someone you know find it challenging to use the current washing or toileting facilities in your bathroom?
This could be due to a disability or mobility issue.
Mobility and accessibility issues are more common than you'd think; simple tasks like walking upstairs to the bathroom, showering and bathing become more difficult and less enjoyable as we get older because of uncomfortable, unsafe bathroom conditions.
2) Do you need financial help adapting a bathroom?
 Not to worry, we can also help guide you in the right direction.
Step 1: Contact your assigned Occupational therapist to arrange an assessment of your home and your requirements.
Step 2: The Occupational Therapist will help to complete the Disabled Facilities Grant and you can ask your assigned Housing Executive Grants officer questions at any stage of the process.
Step 3: Waiting for grant works documents, organise quotations and return to the Housing Executive.
Step 4: Approval and contractor appointed.
3) Can I purchase a Bathroom adaptation privately?
Yes, private bathroom adaptions are becoming more popular to avoid any lengthy delays. If you are making a private purchase, simply follow the steps below. With over 25 years experience Sync living specialize in bathroom adaptations for the less able and elderly. We like to keep things as simple as possible for our clients, that's why we carry out all stages of the adaptation process from quoting to supplying to installation giving you a stress-free experience, eliminating the need to use multiple tradesmen.
4) What products are included in a typical adaptation?
A bathroom conversion usually consists of but is not limited to, depending on the type of funding received or if purchased privately.
A level access, wheelchair accessible or walk in, anti-slip shower area
Thermostatic/anti-scald shower
Shower Seat
Grab Rails
Raised Toilet
Glass Shower Door or half height shower doors to enable easy carer access.
5) I don't want an "institutional' or 'clinical' looking bathroom in my home. Do I have other options?
 Yes, disabled showers no longer need to look clinical. An easy-access wet room or level access showers are generally the most convenient solution for our customers due to its highly contemporary finish. Wet rooms are now the most popular solution because they are stylish yet offer barrier-free showering for people with disabilities including wheelchair users, seniors looking to future-proof their homes and also for families as they can cater for the entire family without the need for any additional equipment.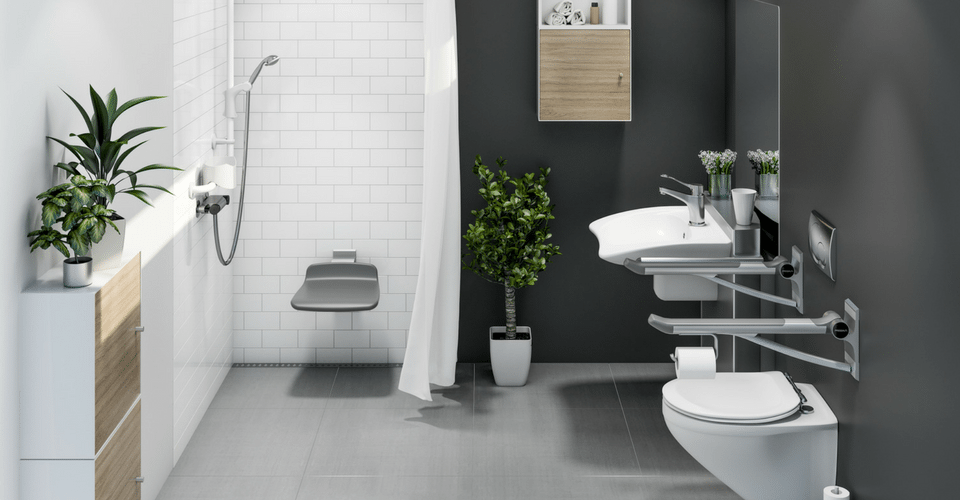 Practicality, functionality and style are the three keys when Sync Living designs a bathroom adaptation. We want to create a stylish, functional and safe space suitable for the whole family. We think about what you might need now and also in the future.

6) What is involved in an adaptation from start to finish?
Sync Living can assure you no problem will remain unresolved. Our goal is to provide an unforgettable customer service.
Say Hello or pop over for a cuppa
A product specialist is available to discuss your personal requirements, offer advice and provide you with a range of suitable options.
Call 028 90 74 5333 or email sales@syncliving.co.uk for free trustworthy advice