CastleCourt is the first building in Belfast city centre to install a Changing Places facility and we at Sync Living were delighted to be involved.
The new toilets are wheelchair accessible and offer a height-adjustable adult-sized changing bench, a ceiling track hoist, and plenty of space for carers.
Paul McMahon, Centre Director for CastleCourt, said:
The new Changing Places facilities is an important addition to CastleCourt and is part of our centre's commitment to being accessible to everyone.

We have listened to feedback from customers and fully understand that standard disabled toilets do not meet the needs of all people with a disability. We're delighted to be able to offer this new facility and hope it will have a positive impact on many people with disabilities, their family and carers.
Michaela Hollywood, a user of the Changing Places facilities and a Trailblazers Campaign Officer with Muscular Dystrophy UK is unable to use a toilet without a hoist and bench. She said:
"I'm over the moon that CastleCourt is home to the first Changing Places in a shopping centre in Northern Ireland and the first for shoppers in Belfast City Centre. I'm unable to use any toilet which doesn't have a hoist and bench."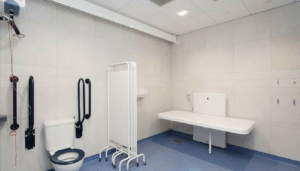 Changing Places with Sync Living
If you require further information regarding a Changing Places Facility please visit here
or contact Andrew@syncliving.co.uk