The Motability Scheme gives you the opportunity to improve your independence and overall quality of life. If you suffer from limited mobility, a mobility scooter could be the ideal solution to get out and about, socialize, keep in touch with family and friends, and run your daily activities.
If you have never considered purchasing a mobility scooter due to financial reasons, the Motability scheme can be the real game-changer! In this blog post, Jim, our Motability expert with over 25 years of experience will give you a flavor of all you need to know about the scheme and how to lease your mobility scooter here at Sync Living.
WHAT IS MOTABILITY? IS THERE ANY DIFFERENCE WITH THE MOTABILITY SCHEME AND MOTABILITY OPERATIONS?
First things first, let's get our heads right about the basics. It's important to understand the difference between the following entities.
It is a registered charity that was set up back in 1977 with the unilateral approval of the UK government. The aim of the charity is to support disabled people with their mobility.
Motability has three main lines of action:
1 – Overseeing the Motability Scheme run by Motability Operations while setting its strategic policies and direction
2 – Providing charitable grants for those who, otherwise, could not join the Motability scheme
3 – Increasing the awareness of the scheme to enable disabled people to improve their mobility and their independence.
It refers to the group of private companies working as service providers for Motability and for the Motability Scheme. Long story short, Motability Operations is responsible for operating the Motability Scheme under the provisions set by Motability. The group is financed by commercial funding arrangements along with reinvesting profits. Motability Operations Limited represents the main operating company and it is supported by the following collateral companies:
Motability Operations Limited

Motability Leasing Limited

Motability Hire Purchase Limited

Route2mobility Limited

MO Reinsurance Limited
It is the name of the 3-year lease actioned by Motability Operations under the supervision of Motability. Currently, over 600,000 customers across the UK enjoy the advantages that come along with the scheme.
Why is this scheme so advantageous for people with reduced mobility?
With the Motability Scheme, people entitled to receive a mobility allowance can fully exchange it or partially use it to lease a car, a wheelchair accessible car, or a mobility scooter. Yes, as simple as that. Moreover, this lease comes with a set of extra benefits.
WHAT ARE THE BENEFITS OF THE MOTABILITY SCHEME?
The Motability Scheme is also known as an all-inclusive mobility leasing. Indeed, it truly gives customers peace of mind preventing them from spending sleepless nights over worries related to their means of transport. This happens because in the price customers pay on a monthly basis includes a set of outstanding benefits. Let's have a look at them:
INSURANCE: 
Customers are covered in case of theft, malfunctioning, accident and any caused damage up to £2,000,000. In addition, they are provided with a total of 30-day travel insurance within the EU every 12 months, a cover for the cost of any adaptation or accessory required for their leased vehicle, and replacement keys.
SERVICING: 
Maintenance is included in the package to ensure the vehicle is always in good condition.
BREAKDOWN RECOVERY: 
In case your vehicle breaks down while you are out, you can always call the 24/7 Motability assist helpline. They will take care of bringing you and your scooter back home and of sorting out your issue in the shortest possible time.
TYRES AND BATTERY REPLACEMENT:

In case of punctured tyres or malfunctioning batteries, the replacement will be free of charge.
EXPERT ADVICE:
If you decide to lease your scooter at Sync Living, our product specialist Jim will treat you like kings and queens listening to your needs, understanding what is best for you, and assisting you whenever you have an issue with your scooter.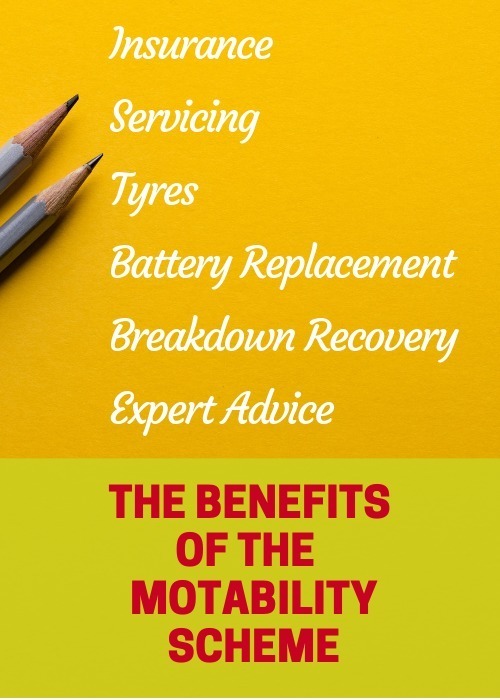 WHO IS ELIGIBLE FOR THE MOTABILITY SCHEME?
To join the Motability Scheme, it is compulsory to receive one of the following allowances:
Higher Rate Mobility Component of the Disability Living Allowance (HRMC or DLA)

Enhanced Rate of the Mobility Component of Personal Independence Payment (ERMC of PIP)

War Pensioners' Mobility Supplement (WPMS)

Armed Forces Independent Payment (AFIP)
For more information about your mobility allowance, you can visit the Department of Work and Pensions website or the webpage of the Department of Social Development if you are based in Northern Ireland. If you are a Veteran, please visit instead the Veterans UK website.
The payment of the lease is spread over three years and it is made every four weeks. It is deducted from the customer's mobility allowance and it is directly sent from the Department of Work and Pensions or Veterans UK to Motability Operations without the end user worrying about any single payment.
WHO IS NOT ELIGIBLE FOR THE MOTABILITY SCHEME?
You cannot take out the lease if you:
do not receive any of the aforementioned allowances (HRMS/DLA, ERMC/PIP, WPMS, AFIP)

have less than 12 months remaining on your award by the time you apply for the scheme
HOW TO LEASE YOUR MOBILITY SCOOTER THROUGH THE MOTABILITY SCHEME HERE AT SYNC LIVING:
Let's now have a look at how the process works, from the first touch point with us and Motability to enjoying your own brand-new mobility scooter!
1 THE NEED:
You realize you might need a mobility scooter to make your day-by-day easier and to gain renewed independence.
2 GET IN TOUCH:
There are different ways to get in touch with Sync Living. You can:
Visit our showroom in Belfast. This is our address: 




Unit 3, 

1 York Road, 

Belfast, 

BT15 3GU. 

Call us at +44 (0) 28 9074 5333
Send an email to

sales@syncliving.co.uk

or to

jim@syncliving.co.uk

Fill out our online contact form
3

THE FIRST MEETING:



After you make an appointment, the dealer organises the first meeting at your house, so you can meet, thoroughly discuss your needs, and understand what your best options would be.
WHAT  OUR MOTABILITY SPECIALIST WILL ASSESS:




– Whether you are indeed eligible for the Motability Scheme
– If your home environment is suitable for a mobility scooter
– Whether your daily routine can be actually supported and improved by a mobility scooter
(e.g. if you need to cover long distances, a car or WAV are better options)
– Your physical, social and mobility needs
– Your rental budget
– Where you are going to travel
(e.g. type of terrain, needs to be fit in the car or not, any kerbs or steep hills along your journey)
– Your height and weight
– If you have full use of your hands for driving
– If there is a safe storage place for the mobility scooter


WHICH TYPE OF MOBILITY SCOOTERS ARE AVAILABLE?
→ Portable Mobility Scooter (CLASS 2):
This type of scooter can easily fit in the boot of your car. It has a lower maximum user weight capacity and less battery autonomy compared to other types of mobility scooters. This is because it is not designed to be your main mode of transport, but rather as a support for your daily activities when you step out of your car.
Here is Jim's top choice: The Pride Elite Traveller.

→ Pavement Mobility Scooter (CLASS 2):
As the name suggests, it cannot be driven on the road, but you are still allowed to use it on pavement and pedestrian crossings. Its maximum speed is 4mph and it has an average autonomy of about 8 – 15 miles per charge. Being not considered as a proper vehicle, you are potentially able to use it inside closed spaces and it can be used as your main mode of transport on short distances.
Here is Jim's top choice: The Invacare Leo.

→ Road Mobility Scooter (CLASS 3):
This mobility scooter is allowed to travel on the road at a maximum speed of 6mph after being registered at the Driver and Vehicle Licence Agency. It is ideal if you want to use it as your main mode of transport as it has an autonomy of 20-30 miles per charge, it is designed with superior suspensions and it supports a maximum user weight up to 33 stones.
Here is Jim's top choice: The New Invacare Comet Pro.
 
4 THE SUITABILITY ASSESSMENT
Within 24/48 hours from your first meeting, the dealer will pay you a second visit. This time he/she will come by with a selection of scooters that are meeting your requirements according to his assessment. You will then an assisted test-drive to understand which option suits you better.
WHAT YOU NEED TO EVALUATE
There are a few questions you should ask yourself during the trial. For example:


– Is the seat comfortable enough?




– Can you reach the controls when seated?




– Do you understand how to use the controls?




– Do you have enough space for your body and legs?




– Is it hard to get on and off the mobility scooter?




– Is it equipped with the right adjustments for your condition?




– Do you have a safe space where you can recharge your mobility scooter?




– If you opted for a foldable scooter, is it easy enough to fit it in the boot of your car?




.

WHAT OUR MOTABILITY SPECIALIST WILL EVALUATE:


– Is the customer able to drive the scooter?




– Is he/she paying attention to the Highway Code?




– Does he/she have a responsible behaviour?




– Does he/she have a proper storage space for the mobility scooter?
If the assessment is positive, the process continues.
5 PAPERWORK AND ELIGIBILITY CHECK:
The dealer will take care of the application process for the lease of your mobility scooter. He/she will compile the Suitability Questionnaire and the Statement of Responsibilities. Then he/she will upload the data online on the Motability application portal for the eligibility check. If Motability approves your application, you are one step closer to get your mobility scooter!
6 PLACING THE ORDER:
Your dealer will order the mobility scooter on your behalf on the Motability online system. To place the order he will just need the following documents from you:
A recent utility bill

A certificate of entitlement for your mobility allowance.
Once Motability approves your order they will send you a letter of confirmation, a PIN code, and the terms and conditions of the Motability Scheme. Your dealer will then get in touch with you to tell you the expected delivery date for your mobility scooter.
7 HANDOVER:
If you ordered a portable or class 2 mobility scooter, the handover will be arranged as soon as the dealer receives it. In case you opted for a class 3 mobility scooter, your dealer has to register your vehicle at the DVLA first.

The dealer will call you to agree on a date for the handover.

Upon delivery, the dealer will show you one more time how to use the controls of your mobility scooter and will fill the handover paperwork that he/she will have to submit on the Motability portal to finalize the leasing procedures

Your lease and the monthly payments are supposed to start within 4 weeks from the day of the delivery and will last for three years.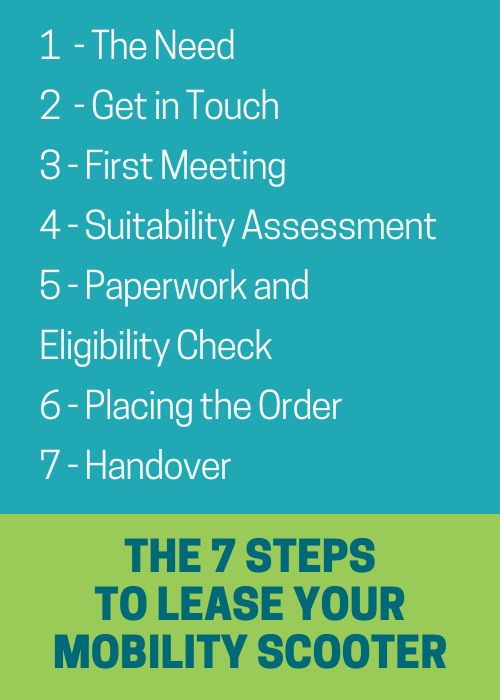 WHAT IS NEXT? LEASE YOUR MOBILITY SCOOTER AT SYNC LIVING!
We hope we managed to make the Motability Scheme and its steps and requirements easy to understand. If you receive a mobility allowance and you are based in Northern Ireland, get in touch with Sync Living to lease your mobility scooter. Jim will take care of the whole process making sure you are happy with your choice and be sure he will be available whenever you have issues with your vehicle.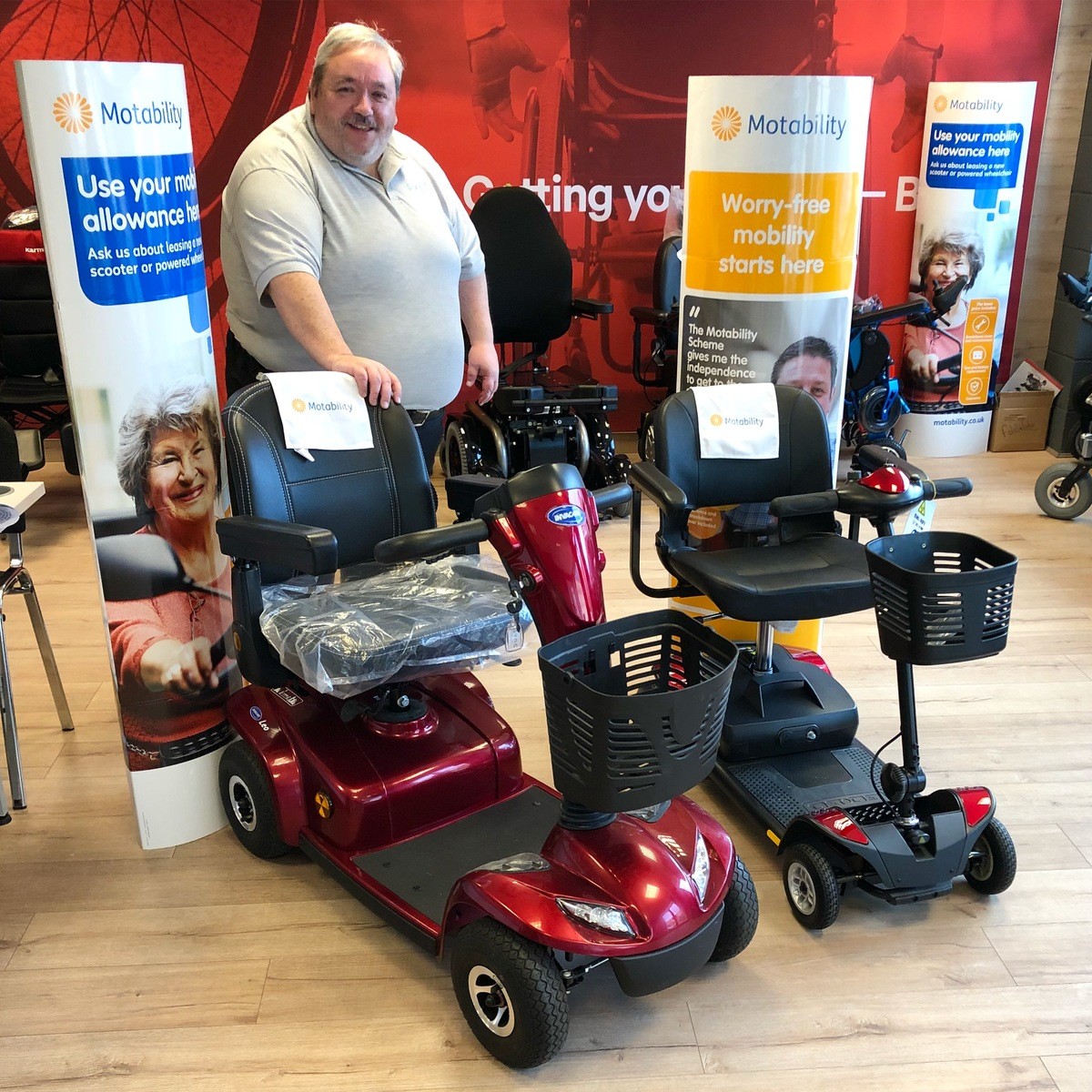 To book your appointment or simply to get more information, call Jim at 07435760371 or email him at jim@syncliving.co.uk. We promise you will be fully satisfied with his knowledge, courtesy, and helpfulness!