Ramps can easily and safely allow for inclusive access to homes and businesses. Our ramps come in all shapes and sizes to meet your individual requirements. There are a number of varieties of wheelchair ramps which can be used for different purposes. Wheelchair ramps come in permanent, semi-permanent, and portable versions.
Here are a few of our best sellers below:
Suitable for Electric Wheelchairs, Manual Wheelchairs and Mobility Scooters
The Folding Wheelchair Ramp is one of our best sellers due to its super lightweight and flexible qualities. The folding ramp can be easily stored in a suitcase and popped onto the back of a wheelchair so it can be used when out and about. They are used extensively in the NHS and the healthcare and nursing home industries.
Features:
Folds for easy storage during transport
Lightweight and durable
Easy to Fit
Anti Slip Surface with life time guarantee
Portable
No installation required
Available in 2ft, 3ft, 4ft, 5ft, 6ft, 7ft and 8ft lengths
2) The Modular Residential Ramps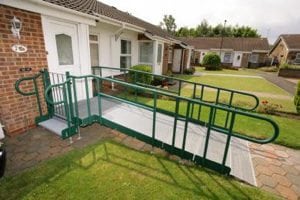 The Easy Access metal modular ramp is a perfect solution for a semi-permanent ramp system. This ramp can be easily installed and can be removed easily when no longer required, providing a much easier solution than concrete ramps. Due to the wide options available, the modular ramps are flexible to meet a wide range of needs.
Suitable for homes, schools, public buildings and commercial properties
Features:
Easy to install
Additional Features available including handrails
Anti Slip
Variety of widths available
Extremely durable construction and finish – designed for years of outdoor use
Easily modified, adapted and reused
This fantastic mobile ramp has been designed for use in public buildings where a quick deployment of a ramp is required and where storage space is limited. These ramps may be used in schools, universities, churches and sports facilities to access buildings or staging.
Features:
Portable
Anti Slip
Can easily be wheeled into place when required
Accessible height from 8" to 16"
Variety of widths available
Can be folded for easy storage
Pop over for a cuppa!
If you would like more information regarding what ramps would suit you or your business please, contact us via 028 9074 5333 or email sales@syncliving.co.uk