We at Sync Living are always looking for new and innovative products for our customers. However, it's been some time since we have got as excited about a new mobility scooter!
The brand new Monarch Smarti is the ultimate foldable mobility scooter, folding and unfolding automatically at a push of a button. Making it easier than ever before to go out and get your freedom.
With just one push the Smarti will fold itself up for you within mere seconds, meaning all you need to do is pop it in the boot and go. No more bending over to unfasten clips and pull levers, just push a button on the remote control and watch the Smarti unfold effortlessly in front of you!
From folded for storage to ready to use in under 20 seconds.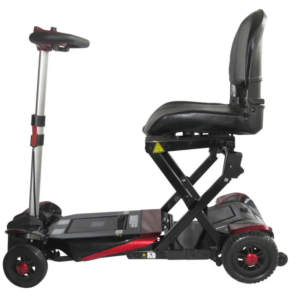 Top features:
Max user weight 21 stone

Range Up to 10 miles on a charge

Batteries Lithium – airline approved

Tyres Solid

Length 38.98″

Width 17.72″

Weight 24kg (inc battery)

Height Adjustable

Folding Padded Seat

Flip up armrest

Available on Motability
ONLY £21.49 pw with the Motability Scheme.
Fancy a go?
Contact the team on 028 9074 5333 to organise a test drive and full product demonstration