Mobility scooters are an essential investment to get out and about, to socialize, and to gain independence. As when buying a car, it is important to find the type of electric scooter that fits your needs the best. To help you make up your mind, here is what you should consider before purchasing your mobility scooter.
THE ROAD MOBILITY SCOOTER
This type of mobility scooter is ideal if you want to use it as a proper means of transport. Whether you need to go to the post office, to the supermarket, or simply meet up with friends, the road scooter will accompany you throughout your daily routine and will make you feel more independent than ever. On average, with a full charge, you can have an autonomy of 20-30 miles.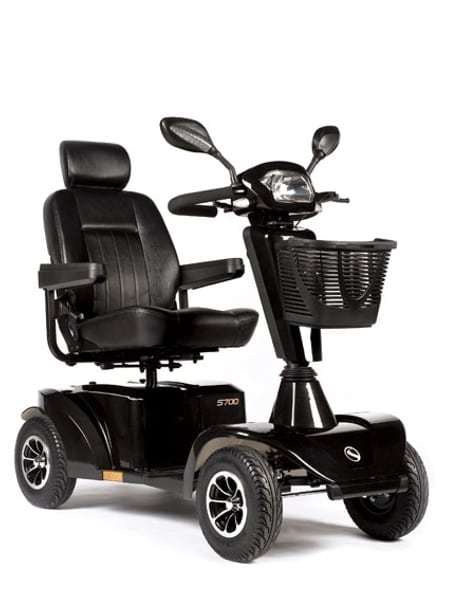 1. MAIN REQUIREMENTS:
Belonging to class 3, this scooter can travel both on the pavement, at a maximum speed of 4mph, and on the road, up to 8mph. The road scooter is suitable for every type of hard terrain. Note that if you want to cushion the street bumps, you can opt for a scooter with built-in suspensions.
If you decide to purchase a road mobility scooter, remember that you need to register it with theDriver and Vehicle License Agency (DVLA) and you are obliged to follow the so-called Scooter Highway Code. Find more information here.In addition, remember that by law a road scooter must be fitted with indicators, lights, horn, and a switch to adjust the speed according to the type of terrain you are driving on.
2. SEATS:
Talking about seats, you can opt for a standard seat, which gives proper support to the spine, or for a captain seat, which is also provided with an additional headrest. Regardless of the type of seat you choose, your scooter will be equipped with armrests for security. Note that the level of comfort of your vehicle will also depend on the type of tires you decide to purchase. If you opt for solid ones, you will be sure not to puncture them, but you will be likely to suffer from the uneven surface. If you purchase pneumatic tires instead, you will feel more comfortable, but there might be the chance to puncture them.
3. STORAGE
As for the storage, if your scooter is medium-sized you could place it inside your apartment. If larger, you could store it in the garage, or in the driveway, but only if properly covered and locked with a chain.
4. WEIGHT CAPACITY
Last, when considering the weight capacity, be aware that a road mobility scooter could support a maximum user weight between 18 and 33 stones, depending on the model. 
THE PAVEMENT MOBILITY SCOOTER
This mobility scooter is ideal for people who need to travel short distances. Due to its reduced size, the pavement mobility scooter can be used also inside closed spaces, such as supermarkets and shopping centres. In addition, this type of scooter can be easily disassembled and placed in the boot of your car, so that you can take it with you wherever you need it.  On average, with a full charge, you can have an autonomy of 8-15 miles.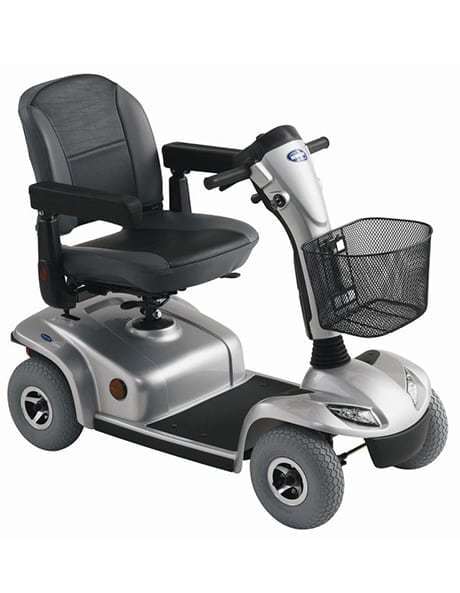 1. MAIN REQUIREMENTS:
This scooter can travel exclusively on the pavement at a maximum speed of 4mph. However, you can cross the road on pedestrian crossings. Since you cannot drive this vehicle on the road, you do not need to register it with the Driver and Vehicle License Agency (DVLA) and it does not have to be fitted with indicators and a horn. However, it is recommended to add lights to your scooter in case you would like to use it in the evening or at night.
2. SEATS:
As for the seat, all pavement mobility scooters are provided with standard padded seats and armrests for security.
3. STORAGE:
In addition, note that this type of scooter can be stored inside your car if disassembled or, alternatively, inside your house.
4. WEIGHT CAPACITY:
Last, know that it can support a maximum user weight up to 25 stones, depending on the model.
ROAD AND PAVEMENT MOBILITY SCOOTERS: GENERAL INFORMATION
Whether you purchase a road mobility scooter or a pavement mobility scooter, it is good to know that the insurance, although recommended, is not a compulsory requirement.
Concerning the budget, there is not a fixed price. It all depends on the accessories you want to include and on the specific type of vehicle you select. However, in general, a road mobility scooter can cost up to £ 4,000.  A pavement mobility scooter, instead, can have a price of up to £1,400.
The following infographic sums up the main differences between these two types of mobility scooter:

Now you have got to know the main features of the road and of the pavement mobility scooter!  What about looking into a model that can suit your needs?
To start, here is a list of different types of vehicles we have in store:
♦ ROAD MOBILITY SCOOTERS ♦
♦ PAVEMENT MOBILITY SCOOTERS ♦
The final word goes to our mobility expert Jim, who has been working in the industry for 20 years! 
Still uncertain about which type of mobility scooter best suits you? Say Hello or pop over for a cuppa!
Jim is available to discuss your personal requirements, offer advice and provide you with a range of suitable options.
Call 028 90 74 5333 or email jim@syncliving.co.uk for free trustworthy advice.