We want you to meet the team behind Sync Living. You want to talk to real people, not robots, right? Let's get started.
Meet our first team member of many, Andrew Smyth. Andrew is an automatic toilet and changing places specialist.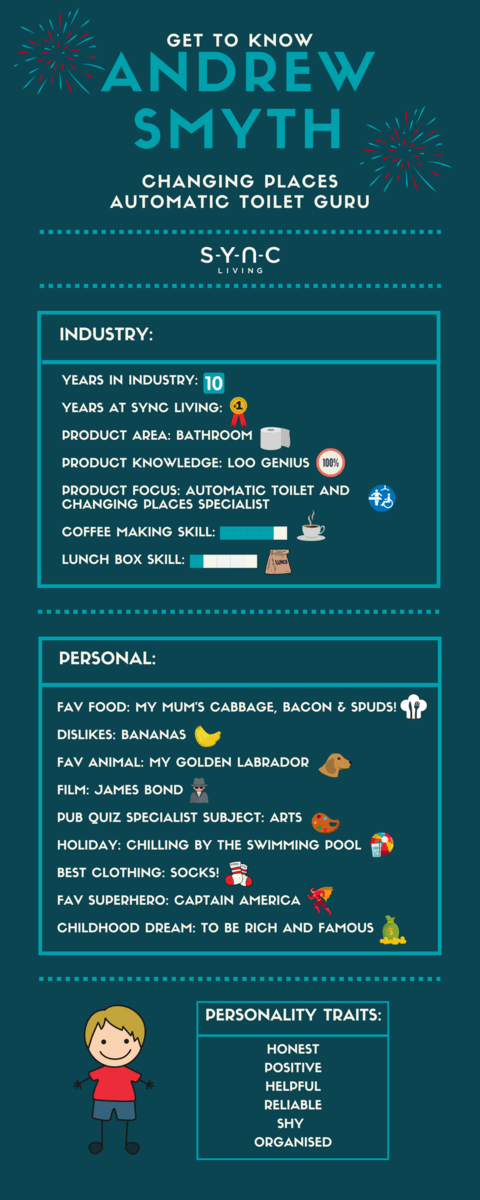 WHAT'S BEEN YOUR FAVOURITE PROJECT TO DAT WITH SYNC LIVING?
Changing Places facility – IKEA Dublin
It was a fantastic experience working with such a renowned retail brand to deliver a state of the art Changing Places facility. I was involved during the initial feasibility study, design & product selection, liaison with contractor, supply & installation and commissioning of relevant equipment in line with BS8300:2018. I loved working on this project and to see it through from start to finish was fantastic. I even attended the official opening and it was great to see a retail giant provide facilities for all of their customers.
WHAT'S YOU FAVOURITE ASPECT ABOUT WORKING AT SYNC LIVING?
SYNC Living offers a platform for me to use my expertise to help others to take independent living to another level with a range of innovative assistive technology products/solutions. Flexibility and quick decision alongside a fresh brand identity provides the perfect work environment.
WHY IS IT IMPORTANT TO PROMOTE CHANGING PLACES FACILITIES?
At last, society is moving on, sadly in the past individuals with disabilities were expected to stay at home. Changing Places facilities help to ensure inclusivity so that more people can participate fully in everyday activities such as going to the shopping mall or attending events. In the past, people with profound disabilities have been restricted by inadequate places to toilet and change.
WHY IS IT IMPORTANT TO ASSIST THOSE WITH DISABILITIES?
Having worked in the industry for over 10 years I receive great satisfaction from providing advice and supplying products that can enhance the quality of life for those who need additional assistance and support. They should not be prevented from leading an active life, where possible.
SAY HELLO OR POP OVER FOR A CUPPA, ANDREW IS WAITING FOR YOU!