We want you to meet the team behind Sync Living, because we are so proud of each one of them!
You want to talk to real people, not robots, right? 
This week it is our pleasure to introduce you to Tammy Hogg, our receptionist at the Belfast showroom. 
Have you ever met her? She is fun and helpful! Learn more about her with this infographics: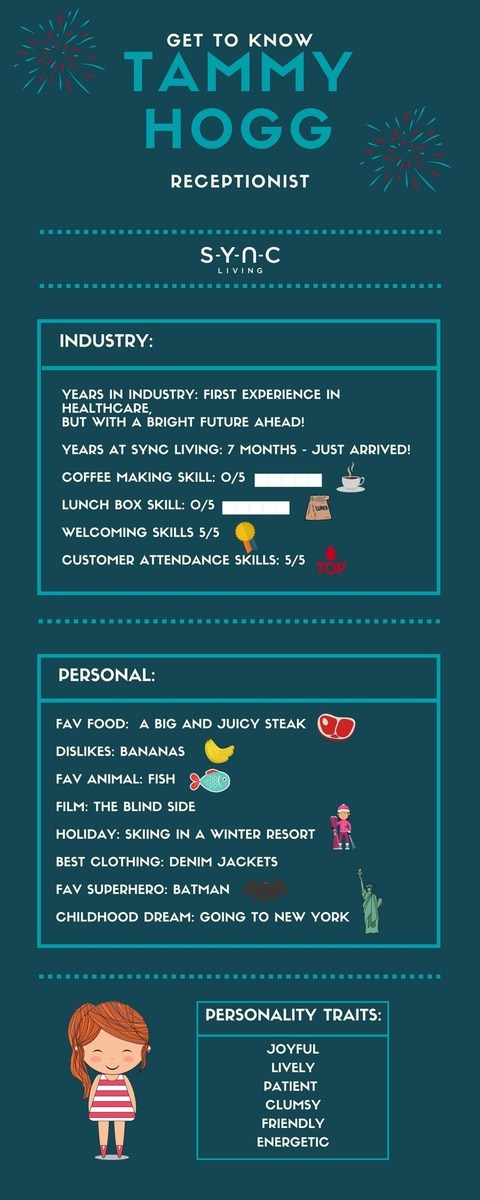 WHAT IS YOUR FAVOURITE ASPECT ABOUT WORKING AT SYNC LIVING?
What I love about working at Sync Living is that every day is different. In fact, every day I get to meet new people, take care of the most different tasks, and learn new things about our wide range of products thanks to our mobility, bathroom, and living specialists and engineers. 
WHICH PROJECT HAVE YOU ENJOYED WORKING ON THE MOST?
I actually enjoy every project that I am given at Sync Living.  As I said everything can happen in a day. Sometimes I have to contact or support customers, other times I have to assist the other team members. I love being helpful and having direct contact with people, and this job allows me to do so!
WHAT WOULD YOU LIKE TO IMPROVE WITHIN THE DISABILITY COMMUNITY IN NORTHERN IRELAND?
I think people don't realize how many products are available for people with disabilities.  They might think they are supposed to adapt to their health condition, but, indeed, there are small adjustments that can make their life easier. There should definitely be more awareness of the product range available for specific needs within the disability community. 
SAY HELLO OR POP OVER FOR A CUPPA, TAMMY IS HERE TO HELP YOU!
Do you have any general inquiry?
You can contact Tammy via email at tammy@syncliving.co.uk or call + 44 (0) 28 9074 5333
She will be able to answer your questions or put you through to the right specialist.