We want you to meet the team behind Sync Living. You want to talk to real people, not robots, right? 
Meet Jim Kane, one of our mobility specialist!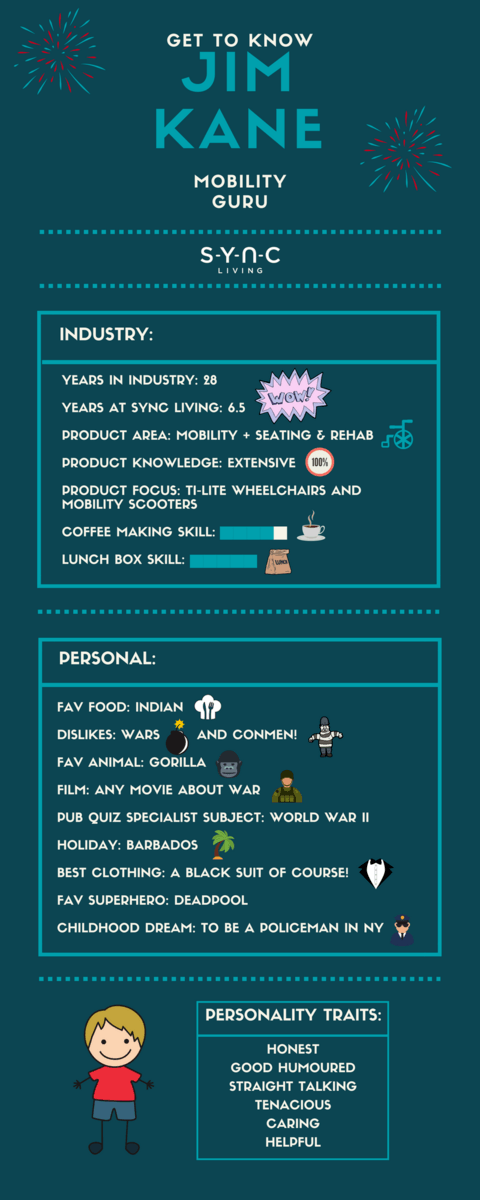 WHAT IS YOUR FAVOURITE ASPECT ABOUT WORKING AT SYNC LIVING?
I find it extremely stimulating to work with a wide range of colleagues. They have vast experience and knowledge in their field of expertise and they always know what is best for our customers.
WHICH PROJECT HAVE YOU ENJOYED WORKING ON MOST AT SYNC LIVING?
The launch and the continued success of the Stimulite Range of Pressure Core Cushions.
WHAT WOULD YOU LIKE TO IMPROVE WITHIN THE DISABILITY COMMUNITY IN NORTHERN IRELAND?
I think there should be at least a couple of things that could be improved, especially in Northern Ireland.
First, people should be able to have more choice in the equipment they can choose when funded by the government.

Second, in Northern Ireland people with disabilities can just take advantage of direct payments, whereas in the UK they can also opt for voucher schemes. This should be changed. Everyone deserves the same opportunities. 

Third, there should definitely be more regulation with regards to wheelchair taxis.

SAY HELLO OR POP OVER FOR A CUPPA, JIM IS WAITING FOR YOU!