Changing Places toilets are designed for people who need additional space, equipment, time and assistance. To ensure that a Changing Places facility serves the people whom it was provided for, there are a number of things that need to be considered prior to installation.
1) Space
Space is key for the entire success of a Changing Place facility and it is two fold in this particular occasion.
a) Space for the room: 12 sqm (3 x 4m)
Changing Places toilets are designed for people who need additional space, equipment, time and assistance. They may not be suitable for people who can use standard accessible toilets independently.
Standard Accessible Toilets (Doc M) are designed for independent use by disabled individuals and often do not provide adequate space or equipment for wheelchairs and carers, dependent on level of disability
Changing Places facilities should be provided in addition to the full range of single­sex and standard accessible toilets and baby changing facilities
b) Space for easy access
The room layout is the most critical factor when designing a Changing Place facility and must comply with the BS8003:2009. Here's our top tips to ensure easy access is achieved:
1) Outwards opening or sliding door (1ooomm wide)
2) Direct access from the door into the clear manoeuvring space
3) Clear manoeuvering space within the room of approximately 2000×1800 mm.
4) Consider using fixed / free­standing equipment positioned to maximize the manoeuvring space

2) Toilet Options
There are two options for toilets within a Changing Place facility;
1) Pennisular Toilet
2) Automatic Toilet
Though not mandatory automatic toilets are designed to provide enhanced hygiene, independence and dignity to people who require specialist help, with the option of hands-free washing and drying.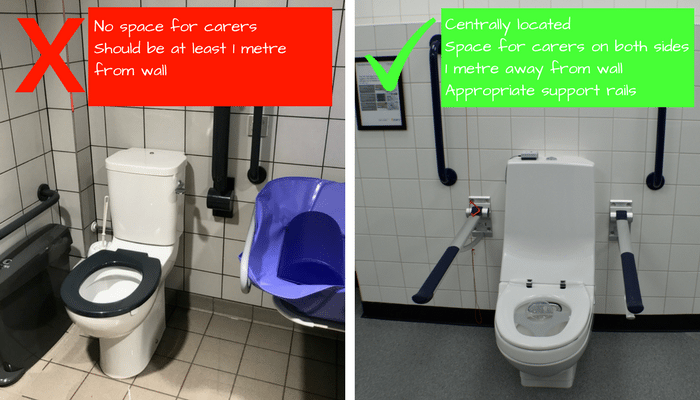 Changing Places guidelines for toilet are as follows:
1) A centrally placed toilet with space either side for carers
2) A toilet should be placed in a peninsular arrangement, at least 1m away from the wall on either side.
3) The toilet should have a seat height of 480mm
PLEASE NOTE: Changing Places toilets are different to standard accessible toilets (or "disabled toilets") and should be provided in addition to accessible toilets.
3) Wash Hand Basin
Whether you select a peninsular or height adjustable wash hand basin there are a few things to consider regarding the positioning of the equipment including;
1) A wash hand basin should have a minimum of 1000mm from adjacent walls to the centre of the basin
2) Adequate space on either side will enable assistance from carers.
3) A height adjustable wash hand basin is a great solution for a multi-users environment
4) The basin should project a minimum of 600mm from the wall to ensure easy access to basin and a clear knee space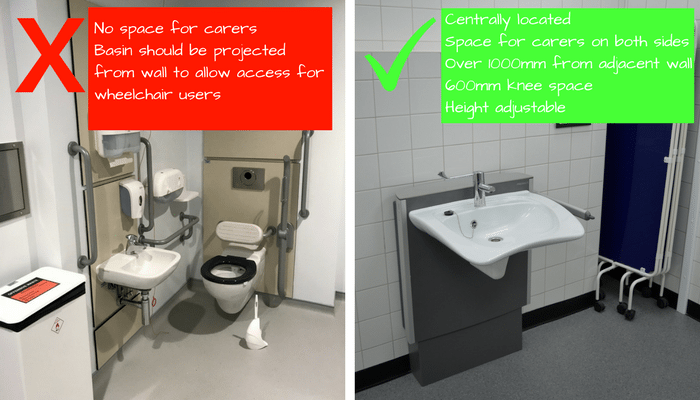 4) Hoist
A ceiling track hoist which gives full room coverage such as a H or XY system
should be provided wherever possible to enable a person to be transferred conveniently between their wheelchair, changing bench, toilet and wash hand basin. A single track hoist will only cover a linear route and may limit access to all equipment and areas of the room and mobile hoists are not recommended.
Things to consider
1) Hoist should provide a safe working load of at least 200kg
2) Ceiling height should be at least 2.4 m
3) All other ceiling mounted fixtures such as lights and alarms should be shallow or recessed to prevent obstruction to hoist.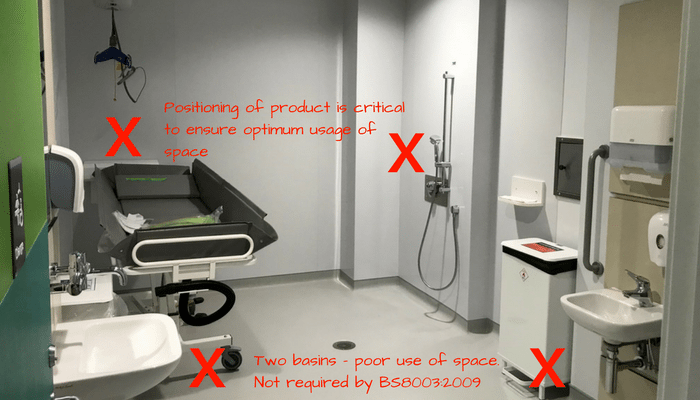 Sync Living has successfully helped to design and install a number of Changing Places across Ireland. Contact Andrew Smyth for any advice or product specifications regarding Changing Places in Ireland.