If you landed on this page you are probably interested in knowing more about wet room design ideas. This article will give you a better understanding of this trending bathroom solution and how to design your dream wet room. Ready? Let's get started!
WHAT IS A WET ROOM?
Wet rooms represent an evolution of the traditional bathroom concept as they combine design with functionality. Not surprisingly, then, they gained popularity in recent years.
At this point, it is important to clarify the meaning of this word to avoid misunderstandings. In case you were wondering, a wet room doesn't stand for a leaking bathroom where the floor gets soaked and your timber rotten!
Jokes aside, the term wetroom (also written wet room) is used to refer to a bathroom with tanked surfaces. In other words, this means that the bathroom floor is sealed. To water-tight a wet room it is necessary to apply a covering membrane or a waterproofing agent underneath the floor surface. Regardless of the tanking option the customers choose, both methods are effective to prevent any leaking or structural damage that a seepage may cause, as they both block water and humidity from penetrating through the building walls.
WHY SHOULD YOU DESIGN A WET ROOM?
Anyone can use a wetroom. However, they are ideal especially for individuals with specific needs. If you feel you belong to one of the following groups, you might want to give us a call and learn what we can do for you!
♡ ELDERLY PEOPLE: 
Restricted mobility can make the bathing experience stressful and uncomfortable. Opting for a wetroom fitted with a shower chair, thus substituting the bathtub and/or the traditional shower, can indeed make the showering experience pleasant again. (This happens because the shower cubicle is integrated within the bathroom floor.)
♡ WHEELCHAIR USERS:
A wetroom is a great solution for wheelchair users as well. It creates more space reducing the furniture needed in a bathroom to be functional. As such, a wet room allows better manoeuvring and gives a greater turning space for wheelchairs, thereby improving accessibility.
♡ OWNERS OF SMALL BATHROOMS:
If you want to make the most of a bathroom, a wet room could be the ideal solution. The recommended minimum space required for a shower tray for wet rooms is 800 x 800 mm. As such, the compact dimensions of the showering area would give you more ease inside a small bathroom.
♡ LUXURY BATHROOM SEEKERS:
Have you always wanted a stylish bathroom? Good news is that you do not need to pay for a hotel suite to enjoy one. Wetrooms are your dream that came true, providing luxury, privacy, and comfort inside your house.
WHAT ARE THE BENEFITS OF A WET ROOM? 
Besides redefining the concept of bathing experience for the better, wet rooms have some obvious and not so obvious benefits.
✔ BESPOKE:
One of the great advantages of wet rooms is that you can fully customise them according to your needs and preferences. No design limitations thanks to wet room floors that can be adapted to any shape or size of bathroom.
✔ GREATER CIRCULATION AREA:
Being the shower tray integrated of a wetroom integrated within the floor, you will have much more room to walk in or wheel around.
✔ AESTHETICS:
Compared to standard bathrooms, a wet room boasts an outstanding design. Refined in its simplicity. Sophisticated. That little bit extra that will make your bathroom look luxurious.
✔ AFFORDABLE:
Despite the classy design, building a wet room is not as expensive as you might think. The average price is estimated to be around £3,500.
✔ HYGIENIC:
With no joints and fewer pieces of furniture, it will be easier to keep your wetroom clean and tidy compared to a traditional bathroom.
✔ SAFE:
Wet rooms are also ideal to reduce trip hazards and prevent injuries since the shower tray is directly integrated with the wetroom floor and it is made with non-slip material.
✔ ADAPTABLE:
People often think wet rooms cannot be built upstairs because they would damage timber or concrete floors. This could not be any false. In fact, one of the main features of wet rooms is that they are built with a tanking membrane that makes them waterproof.
✔ CAN BE ACCESSORISED:
You can add specific accessories according to your needs. If you have limited mobility, for example, you could decide to install grab rails, a wall-mounted shower chair, or even a body drier fitted in the shower corner.
✔ FAMILY-FRIENDLY:
A wetroom makes your bathroom area more livable and suitable for every family member from kids to grandparents.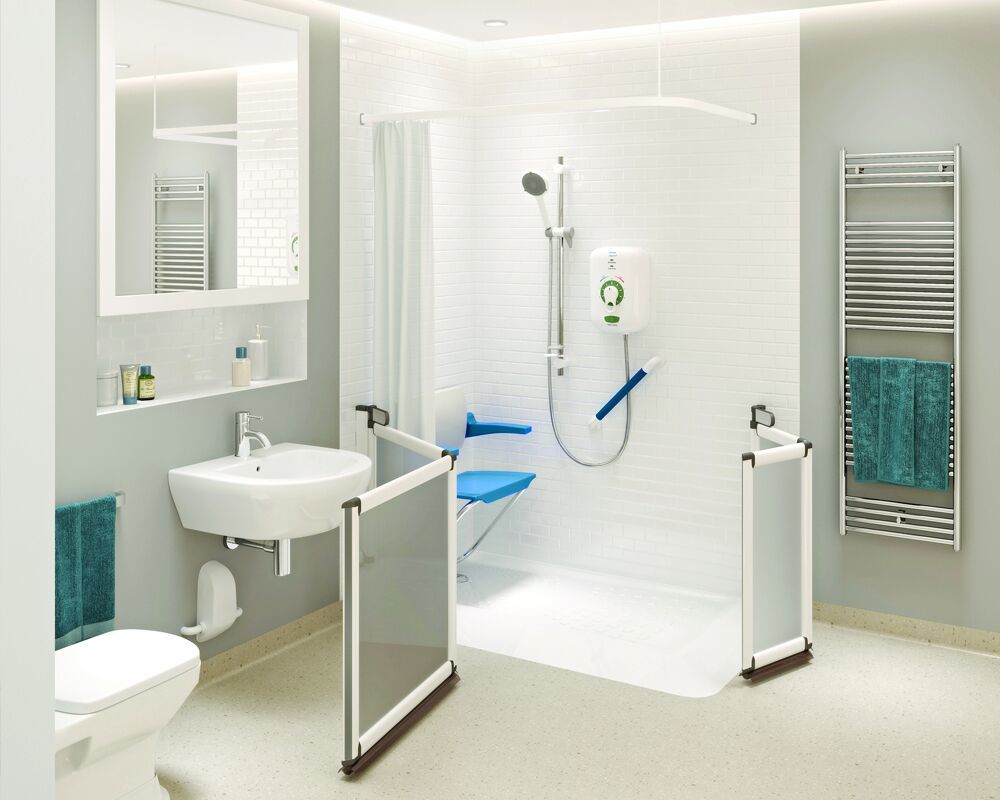 THE DESIGN OF A WET ROOM
Not enough attention is given to the spec of a wet room. Here is a quick breakdown of the elements that should always be included when designing a wet room: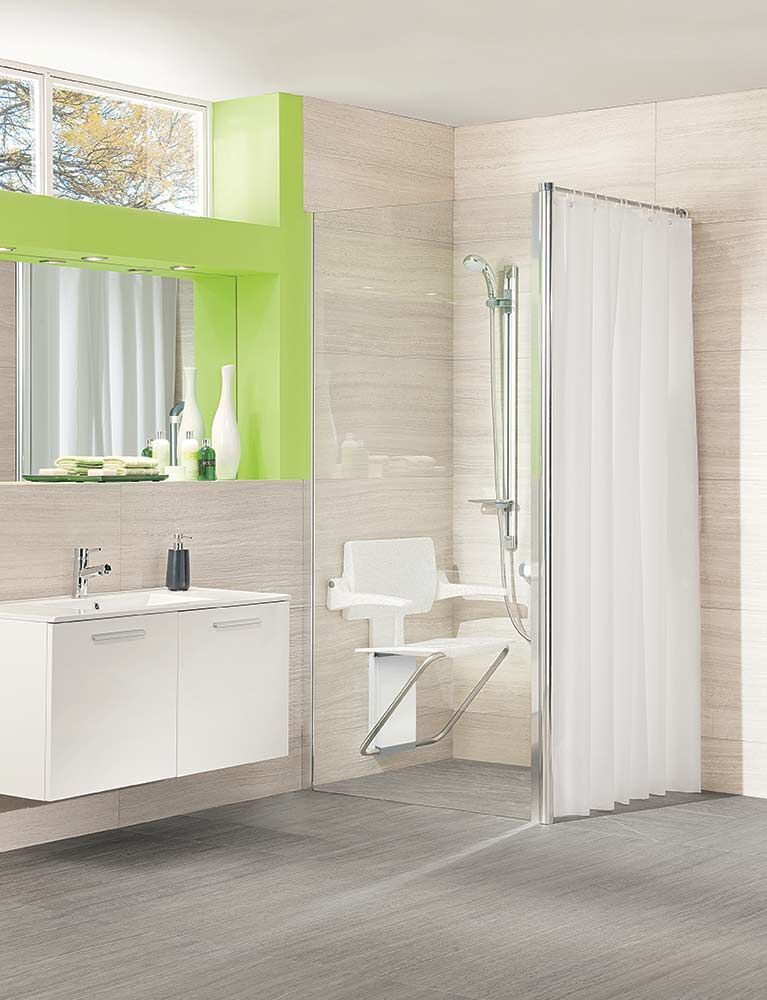 SYNC LIVING CAN HELP YOU CREATE THE PERFECT WET ROOM DESIGN!
Sync Living has more than 20 years experience in bathroom adaptions. If you are considering turning your old bathroom into a new, practical, and luxury wet room, our specialists are here to help and give you an honest and reliable piece of advice!
What will Sync Living do for you?
➤ Free assessment survey at your place
➤ Quotation under no obligation
➤ Installation: a wetroom is normally completed within 4 to 5 working days
➤ After-sales customer care
Do you want to know more about wet rooms and their design?
Call us at +44 (0) 28 9074 5333 or come over to our showroom. You can find us just next to Yorkgate train station at Unit 3, 1 York Road, Belfast, BT15 3GU.